Understanding pre-flight checks
Pre-flight checks are in place so that your drone can fly safely after it takes off. The drone will check its system to ensure that the the connection to your phone is stable, the battery levels are good, and the GPS signal is strong.
1

Communication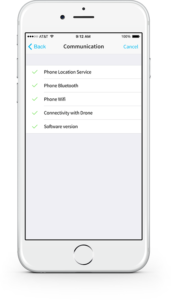 The first set of checks required for the Hexo+ to take off involves the communication between the app and the drone. A stable Bluetooth connectivity will allow for the drone to follow you safely and accurately.
For instructions on troubleshooting a communication error, you can reference the Bluetooth connection issue article.
2

Hardware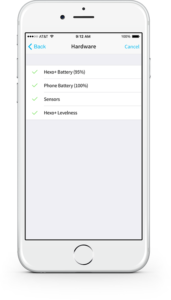 This section of the checks will seek to ensure that you have high enough battery levels on both your phone and the drone to take off and perform a safe landing.
The reliability of the compass is also important as it will greatly affect the flight behavior of the Hexo+ while it's in the air.
For instructions on troubleshooting the sensors error, you can reference the compass issue article.
3

Position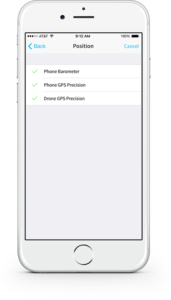 The positioning of the drone in relation to your smartphone is incredibly important as it will affect how accurately the drone is able to frame you. You'll need a strong and accurate GPS signal on your smartphone.
For more information on GPS, check out the articles on the importance of good GPS and choosing the right flight spot.